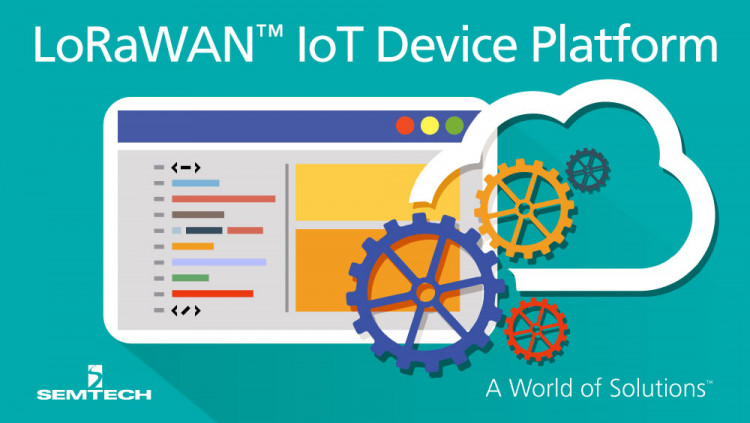 Semtech and ARM Introduce mbed IoT Device Platform for LoRaWAN™ Specification
ARM® mbed™ IoT Device Platform and shields based on Semtech's LoRa™ technology simplify development of Internet of Things applications
Camarillo, California - February 22, 2016 -
Semtech Corporation (Nasdaq: SMTC), a leading supplier of analog and mixed-signal semiconductors, and ARM, a leader in microprocessor technology, recently released LoRaWAN™ development through ARM mbed with LoRa™-based shields and platforms. The LoRaWAN end-device source code, standardized by the LoRa™ Alliance, is also available through mbed simplifying device prototyping and accelerating the development of Internet of Things (IoT) applications.
By offering an easily programmable tool that comes pre-installed with editable source code, the LoRa-equipped mbed platform allows developers to easily develop IoT applications and connect to LoRaWAN gateways. This gives developers and other interested parties the tools necessary to test the capabilities of LoRa RF technology and create IoT solutions.
"The easy-to-use, free online development platform from ARM combined with our LoRa transceiver improves the access for developers who want to explore the benefits and capabilities of LoRa," said Hardy Schmidbauer, Director of Wireless for Semtech's Wireless, Sensing and Timing Product Group. "By creating a more accessible tool, we anticipate even more realized IoT applications in the near future."
The mbed supported NAMote72 platform is integrated with Semtech's SX1272 LoRa transceiver and a STMicroelectronics STM32L1 series ultra-low-power MCU. This tool is designed for the 915MHz frequency band and includes a front-end module that can test the technology limits at the highest allowable regulatory output power. In addition to the NAMote72, Semtech and ARM released two LoRa and mbed enabled shields, the SX1276MB1MAS and SX1276LB1LAS, based on Semtech's SX1276 transceiver. These tools, designed for the ISM frequency bands of Europe and China (SX1276MB1MAS) and North America (SX1276LB1LAS), give developers source code to enable RF tests, simple point-to-point communication and other device compatibility. The mbed shields plug into any mbed microcontroller development platforms from STMicroelectronics, NXP and others.
"The ARM mbed platform enables developers to quickly and easily create commercial, standards-based IoT solutions," said Zach Shelby, vice president of marketing, IoT business, ARM. "By integrating ARM mbed technology with Semtech's LoRa transceivers we are providing developers with the tools to use the standards-based LoRaWAN technology. We look forward to seeing Semtech utilize mbed technology to streamline and rollout IoT applications at scale."
LoRaWAN LPWANs will be deployed for Mobile World Congress in Barcelona and Embedded World in Nuremberg, Germany. The ARM mbed IoT Device Platform will be displayed at the LoRa Alliance and Semtech booths to showcase its functionality with the live LoRaWAN network.
Resources:
About Semtech
Semtech Corporation is a leading supplier of analog and mixed-signal semiconductors for high-end consumer, computing, communications and industrial equipment. Products are designed to benefit the engineering community as well as the global community. The company is dedicated to reducing the impact it, and its products, have on the environment. Internal green programs seek to reduce waste through material and manufacturing control, use of green technology and designing for resource reduction. Publicly traded since 1967, Semtech is listed on the NASDAQ Global Select Market under the symbol SMTC. For more information, visit www.semtech.com.
Forward-Looking and Cautionary Statements
All statements contained herein that are not statements of historical fact, including statements that use words such as such as "allows," "gives," "improves," "anticipate," "designed for," "will," or other similar words or expressions, that describe Semtech Corporation's or its management's future plans, objectives or goals are "forward-looking statements" and are made pursuant to the Safe-Harbor provisions of the Private Securities Litigation Reform Act of 1995, as amended. Such forward-looking statements involve known and unknown risks, uncertainties and other factors that could cause the actual results of Semtech Corporation to be materially different from the historical results and/or from any future results or outcomes expressed or implied by such forward-looking statements. Such factors are further addressed in Semtech Corporation's annual and quarterly reports, and in other documents or reports, filed with the Securities and Exchange Commission (www.sec.gov) including, without limitation, information under the captions "Management's Discussion and Analysis of Financial Condition and Results of Operations" and "Risk Factors". Semtech Corporation assumes no obligation to update any forward-looking statements in order to reflect events or circumstances that may arise after the date of this release, except as required by law.
Semtech, the Semtech logo, LoRa and LoRaWAN are registered trademarks or service marks, or trademarks or service marks, of Semtech Corporation and/or its affiliates. Third-party trademarks or service marks mentioned herein are the property of their respective owners.