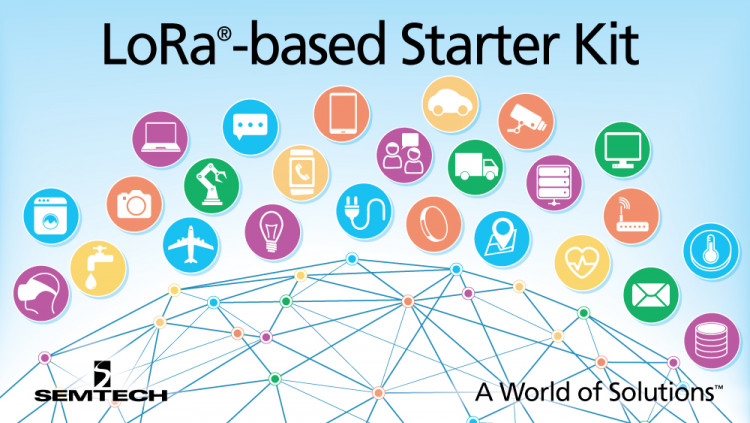 New Semtech LoRa®-based Development Kit from LoRa Alliance™ Members Enables Fast Prototyping of Internet of Things Applications
LoRa Alliance Members Libelium and Loriot team up to deliver a LoRaWAN™-connected development environment for quickly testing and prototyping a wide range of IoT applications
Camarillo, California - August 11, 2016 -
Semtech Corporation(Nasdaq: SMTC), a leading supplier of analog and mixed-signal semiconductors, today announced the availability of a new LoRaWAN™-connected development kit from wireless hardware and software manufacturer Libelium and network services and software provider Loriot that should allow designers to speed up the development and testing of their Internet of Things (IoT) applications.
Comprised of a gateway and ten sensor devices, featuring Semtech LoRa® technology, application software, and a connection to Loriot's cloud-based LoRaWAN network, the new development kit is optimized for smart city, smart security, smart environment and smart agriculture applications. The kit is available for both North America (915 Mhz) and European (868 MHz) frequencies.
"Developing IoT applications typically involves setting up a network and testing the various hardware components and software to ensure everything operates correctly," said Javier Martínez, Libelium's Vice President of Business Development & Sales. "With our kit, customers do not have to spend time configuring and testing a network, because we are able to provide them with a LoRaWAN network connection that has already been tested and set up to run seamlessly with the kit components and software."
"The collaboration between Libelium and Loriot to produce a comprehensive IoT development environment that is easy to use is an excellent example of how companies in the LoRa Alliance are working together to deliver complete solutions to IoT customers," said Mike Wong, Vice President of Marketing and Applications for Semtech's Wireless and Sensing Product Group. "Such collaboration also shows the value of the open LoRaWAN specification as it continues to bring hardware, software and networking companies together to drive innovative solutions for the IoT market."
Semtech, Libelium, and Loriot are members of the LoRa Alliance, a group of over 300 companies committed to driving and enhancing the LoRaWAN specification to ensure interoperability and scalability of LPWANs and IoT applications. Through its work with member companies and IoT industry groups, it is making LoRaWAN the standard for LPWANs focused on low power, long-range IoT applications. To date, there are LoRaWAN public and private networks in more than 50 countries worldwide.
To learn more about the Libelium and Loriot starter kit, visit: www.libelium.com/libelium-launches-the-first-iot-kit-with-lorawan-connectivity-based-on-loriot-platform
Resources
About Libelium
Libelium designs and manufactures hardware and a complete software development kit (SDK) for wireless sensor networks so that system integrators, engineering, and consultancy companies can deliver reliable Internet of Things (IoT), M2M, and Smart Cities solutions with minimum time to market. For more information, visit www.libelium.com.
About Loriot
LORIOT is a Swiss start-up in the field of Internet of Things. Its core product today is software for secure, scalable, distributed, resilient operation of LoRaWAN networks and end-to-end applications. For more information, visit www.loriot.io.
About Semtech
Semtech Corporation is a leading supplier of analog and mixed-signal semiconductors for high-end consumer, computing, communications and industrial equipment. Products are designed to benefit the engineering community as well as the global community. The company is dedicated to reducing the impact it, and its products, have on the environment. Internal green programs seek to reduce waste through material and manufacturing control, use of green technology and designing for resource reduction. Publicly traded since 1967, Semtech is listed on the NASDAQ Global Select Market under the symbol SMTC. For more information, visit www.semtech.com.
Forward-Looking and Cautionary Statements
All statements contained herein that are not statements of historical fact, including statements that use the words "to deliver," "will," or other similar words or expressions, that describe Semtech Corporation's or its management's future plans, objectives or goals are "forward-looking statements" and are made pursuant to the Safe-Harbor provisions of the Private Securities Litigation Reform Act of 1995, as amended. Such forward-looking statements involve known and unknown risks, uncertainties and other factors that could cause the actual results of Semtech Corporation to be materially different from the historical results and/or from any future results or outcomes expressed or implied by such forward-looking statements. Such factors are further addressed in Semtech Corporation's annual and quarterly reports, and in other documents or reports, filed with the Securities and Exchange Commission (www.sec.gov) including, without limitation, information under the captions "Management's Discussion and Analysis of Financial Condition and Results of Operations" and "Risk Factors". Semtech Corporation assumes no obligation to update any forward-looking statements in order to reflect events or circumstances that may arise after the date of this release, except as required by law.
Semtech, the Semtech logo, LoRa and LoRaWAN are registered trademarks or service marks, or trademarks or service marks, of Semtech Corporation and/or its affiliates. Third-party trademarks or service marks mentioned herein are the property of their respective owners.