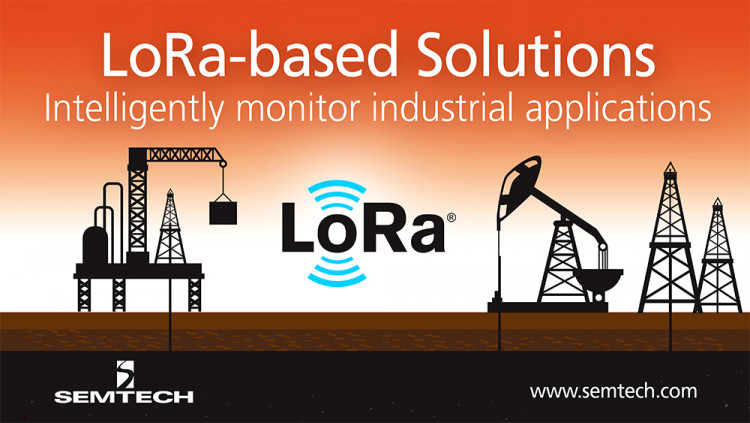 Advantech Delivers Innovative IoT Solutions Using Semtech's LoRa Technology
Advantech's LoRa-based solutions intelligently monitor industrial applications in remote areas and harsh environments
Camarillo, California - September 28, 2017 -
Advantech, a leading supplier of industrial communication solutions, has collaborated with Semtech Corporation (Nasdaq: SMTC), a leading supplier of high performance analog and mixed-signal semiconductors and advanced algorithms, to expand its line of wireless products with the launch of the Wzzard LRPv node and SmartSwarm 243 gateway, both integrated with Semtech's LoRa® devices and wireless RF technology (LoRa Technology). The new Advantech solutions leverage LoRa Technology to overcome the boundary of distance, thereby maximizing monitoring efficiency and overall productivity.
Accessing Semtech's LoRa Technology and the LoRaWAN™ open protocol, the Wzzard LRPv node is a highly-integrated sensing platform for applications ranging from I/O sensor data management to network protocol conversion. The LoRa-based node can be utilized to form a private sensor network, yielding immediate dividends by cutting maintenance costs while increasing overall productivity. With its rugged design, the gateway, SmartSwarm 243, can be installed in remote areas and harsh environments.
"Advantech's LRPv series make it possible to place sensors and Internet gateways in locations where AC power or wired Ethernet is unavailable. The high flexibility of the dual power-saving modes and alarm system can minimize costs by conserving power, and detecting potential failures and preventing shutdowns," said Alpha Chen, Vice president of iConnectivity Group at Advantech.
"Advantech's new LoRa-based nodes and gateways are ideal for Internet of Things (IoT) applications since they can be utilized in remote areas," said Mike Wong, Vice President for Semtech's Wireless and Sensing Products Group. "Semtech's LoRa Technology offers long-range, low-power capabilities for next-generation IoT applications and vertical markets including Smart City, Smart Building, Smart Agriculture, Smart Metering, and Smart Supply Chain and Logistics."
About Advantech
Founded in 1983, Advantech is a leading provider of trusted and innovative products, services, and solutions. Advantech offers comprehensive system integration, hardware, software, customer-centric design services, embedded systems, automation products, and global logistics support. Advantech cooperates closely with its partners to provide complete solutions for a wide range of applications in various industries. Its mission is to enable an intelligent planet by developing automated and embedded computing products and solutions that facilitate smarter working and living. With Advantech products, the application and innovation potential becomes unlimited. For more information, visit www.advantech.com.
About Semtech
Semtech Corporation is a leading supplier of high performance analog and mixed-signal semiconductors and advanced algorithms for high-end consumer, enterprise computing, communications, and industrial equipment. Products are designed to benefit the engineering community as well as the global community. The Company is dedicated to reducing the impact it, and its products, have on the environment. Internal green programs seek to reduce waste through material and manufacturing control, use of green technology and designing for resource reduction. Publicly traded since 1967, Semtech is listed on the Nasdaq Global Select Market under the symbol SMTC. For more information, visit www.semtech.com.
Forward-Looking and Cautionary Statements
All statements contained herein that are not statements of historical fact, including statements that use the words "to expand," "make it possible to," "to enable," "designed to," or other similar words or expressions, that describe Semtech Corporation's or its management's future plans, objectives or goals are "forward-looking statements" and are made pursuant to the Safe-Harbor provisions of the Private Securities Litigation Reform Act of 1995, as amended. Such forward-looking statements involve known and unknown risks, uncertainties and other factors that could cause the actual results of Semtech Corporation to be materially different from the historical results and/or from any future results or outcomes expressed or implied by such forward-looking statements. Such factors are further addressed in Semtech Corporation's annual and quarterly reports, and in other documents or reports, filed with the Securities and Exchange Commission (www.sec.gov) including, without limitation, information under the captions "Management's Discussion and Analysis of Financial Condition and Results of Operations" and "Risk Factors." Semtech Corporation assumes no obligation to update any forward-looking statements in order to reflect events or circumstances that may arise after the date of this release, except as required by law. Semtech, the Semtech logo, and LoRa are registered trademarks or service marks, and LoRaWAN is a trademark or service mark, of Semtech Corporation or its subsidiaries.
SMTC-P
###